For a while, I've debated telling anyone this story. I always said I would reveal it at the wedding or maybe even hold on to it 'till the day we die.
But since I feel so safe, secure, and confident in my relationship, I felt sharing wouldn't be an issue. Besides, it fits the mood.

3 years ago I wasn't in the best place in my life. This was probably the worst It's ever been. I had gained a ton of weight. I had also just come out of a pretty toxic relationship. Basically, I felt like a mess. In more ways than I thought.
I knew I had to get it together, which I did and despite all the bad things that were happening to me, I felt great. But, I still felt like I was missing something. I was missing companionship. So I did something out of my comfort zone. I downloaded my first dating app. Tinder.
It felt so weird. I've never been comfortable with the idea of meeting a stranger online. Yet alone deal with the chances that anyone from my town could catch me on this app. I thought about it and I was being silly because clearly if they catch me on this app they are also using it just like me.
Shame aside, I let my guard down and started swiping. I matched with some guys but I would never be the one to make the first move. Only because I'm an awkward nervous wreck. So, after connecting with a few guys I was sure all of them the wrong guy for me.
The first guy completely scared the crap out of me wanting to face time 6 seconds after we matched. If you guys know me, you know I absolutely hate FaceTime. The second guy had all the wrong intentions and everyone after him as well.
I started to believe that what everyone said about Tinder was right. Tinder was an app strictly for hookups (mind you it's only been a week). Honestly, I was gonna get rid of it until I came across this "mysteriously" simple guy.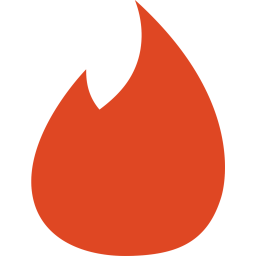 I couldn't see his face because it was covered with his phone and that alone made me want to swipe left but his bio made me giggle. "I don't know what to put here." it read. I immediately swiped right and hoped for the best. Later that night I got a message "😍" and the rest was history.
We texted none stop for 2 weeks before I suggested we go on our first date. Yes, it was me that suggest we go on a date. I couldn't believe I was already so in-like with someone. We never ran out of things to talk about. It just felt right.
Now I know what you might be thinking, damn she falls fast. I was surprised too because I usually find the worst in guys first so I don't get my hopes up. This time was just different.
He picked me up and we went to Fridays. It was a nice date! We sat at the bar and ate appetizers. I ordered a drink for some liquid courage and hours later the date ended. I know we both had a great time.
Clearly, we clicked ever since because he's been my boyfriend for nearly 2 years and now the father of our handsome little guy, Isaiah.
Obviously, you should be careful with online dating, or meeting with strangers in general. People are crazy out there but don't let that stop you from opening your mind to different options.
See! Not all tinder dates are bad.
---
As always, thanks so much for reading! Questions, comments, and feedback are always welcome. If you enjoyed this post, please comment, like and share! Make sure to check out my Instagram; @T_scorner 💋